Concrete is a material primarily used to construct Foundations, Walls, several other buildings, and some parts.
Obtaining
[
]
Crafting
[
]
Alternate recipes analysis
[
]
The following shows different ways to produce 1 Concrete / second, or 60 / min: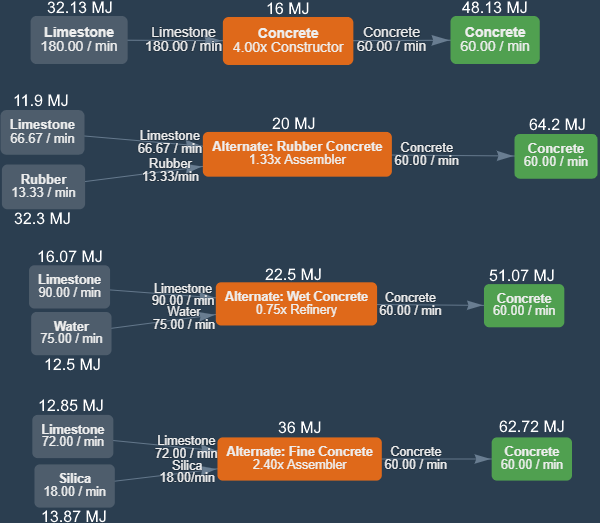 Recipe
Limestone
/min (WP)
Crude Oil
m3/min (WP)
Raw Quartz
/min (WP)
Total WP
Total Energy
/item (MJ)
Space
(m2)
Building
counts
Sink value
input (item)
Sink value
input (ore)
Sink value
output
Default
180
(34.05)
-
-
34.05
48.13
320
4
360
360
720
Rubber
66.67
(12.61)
4.44
(3.79)
-
16.41
64.2 (+33%)
357 (+12%)
2.07
400
164.41
720
Wet
90
(17.03)
-
-
17.03
51.07 (+6%)
150 (-53%)
0.75
180
180
720
Fine
84.86
(16.05)
-
7.71
(7.34)
23.4
62.72 (+30%)
463 (+45%)
3.09
504
285.42
720
Weighted Point is the weighted consumption rate which is calculated by: (resource consumption rate / maximum extraction rate) * 10,000. The lower the better.
Energy per item can be used to measure how much power is consumed for the entire production chain. The lower the better.
Space refers to building space, excluding belts and pipes. The lower the better.
Among multiple ways to produce each of the ingredient, the recipe with the lowest WP is chosen. See also:
Recipe Summaries

This section serves as a summary for alternative recipes and when they could be used. It can be a bit subjective, so don't take it too serious.
Should you run out of Limestone but have extra Rubber, Rubber Concrete can be used to boost your concrete production. This recipe has the highest conversion of Limestone to Concrete, at the cost of needing Oil.
- "The Rubber does NOT make the foundations any bouncier. Trust me, I tried."
Need to boost your Concrete production but don't want to use valuable resources? Try Wet Concrete. It has a decent conversion rate, but you have to use the bulky refineries and water.
- "When life gives you lemons (water), don't make lemonade. Flush them down the toilet (refinery). "
Fine Concrete has the second best Limestone-to-Concrete conversion, but it needs silica, which you only get from Raw Quartz or Aluminum Refinement.
- "Concrete so fine, it's worth every dime."
Usage
[
]
Crafting
[
]
AWESOME Sink
[
]

Concrete
can be sunk into the
AWESOME Sink
to yield
12 points
.
Trivia
[
]
The maximum amount of Concrete that can be created per minute (using alternate recipes) is 35,240.
History
[
]
Items

Parts
Components
Equipment