| | | |
| --- | --- | --- |
| " | You better watch out, you better not cry, you better not pout, I'm telling you why. FICSMAS is coming to town | " |
| | ~ ADA | |
FICS⁕MAS is a seasonal holiday-themed in-game event, originally lasting from Dec 1st, 2020 to Jan 18th, 2021. The 2nd season spans from Dec 1st, 2021 to Jan 18th, 2022. Exclusive items and buildings are available during this event, which remain even after the event ends.
Participating
[
]
The event was set to be enabled by default the first time the game was updated to Patch 0.3.7, both in the early access and experimental branches. It could be disabled entirely in the main menu (not the in-game pause menu) by ticking the 'Disable Seasonal Events' option under 'Gameplay' settings.
After the event ends (18th January 2021[1]), FICSMAS items and buildings remain in the world, but FICSMAS Gift Trees stop producing FICSMAS Gifts. Production buildings keep their recipes, but you can no longer select the recipes elsewhere. The build menu FICS⁕MAS category, HUB Calendar, and MAM research chain will disappear (this means no more FICSMAS buildings can be built).
FICSMAS Calendar
[
]
While the event is active, a Satisfactory themed advent calendar can be found to the right of the HUB Terminal. This calendar gives access to a new gift each day of the event up until December 25. Interacting E with the Calendar brings up a poster featuring a mini puzzle game. The pioneer has to look for a hidden number corresponding to either the current date in December or a previous date. There are 25 total gifts to be earned. By clicking the number equal to the current day of December, items will pop up as a daily reward. Those items can then be collected into the inventory by dragging or Shift-clicking the pop up.
If the player cannot find a specific number, enter the desired number at the bottom right of the calendar and clicking the 'get hint' button highlights the desired number.
The calender for year 2021 has a different design from year 2020.
Gifts
[
]
For year 2021, the rewards for all of the days are randomized, except for the 1st, 3rd, 4th, 5th, 10th, 11th, 24th, and 25th of December:
Notes:
↑ Basic FICSMAS Skins consume one FICSMAS Gift per use for Conveyor Belt and Pipeline reskin. From Belt Mk.1 to Mk.5 the patterns are replaced as follows:

Conveyor Belt - Mk 1 - Brown FICS⁕MAS Paper with Tape.
Conveyor Belt - Mk 2 - Grey with White Snowflakes.
Conveyor Belt - MK 3 - Red/Green/White Striped Brown Wrapping Paper.
Conveyor Belt - Mk 4 - Dark Green with White FICS⁕MAS Trees.
Conveyor Belt - Mk 5 - Grey with Gold Stars (hard to see due to speed).
Pipeline - Mk 1 - White with Red Stripes Candy Cane.
Pipeline - Mk 2 - White with Red Stripes Candy Cane Plus Green Highlights.

↑ Premium FICSMAS Skins consume one FICSMAS Wonder Star per use for Vehicle reskin. The Vehicle Skin is replaced as follows:

Standard Factory Cart - Red Christmas Wrapping with White Stars and Candy Cane Piping with Green Highlight on left side along with additional various Gold Metal Body Trimmings.
Truck - Chocolate body, chocolate wheels along with Gingerbread body parts all accented with White / Pink Frosting and Red / Green Candies.
Drone - White body with Red / Green / Gold Highlights. Red Christmas Wrapping with White Stars is used around fan blades and in a strip across body. Green Wrapping with White Stars plus White Zig-Zags is used in a strip across the body.

↑ Premium FICSMAS Skins are currently not available for Golden Factory Cart, Tractor, and Explorer.
For all other days, the sequence is shuffled, although it's guaranteed to get all the items below eventually:
Rewards from missed previous days can be collected, while those from upcoming days cannot. When a reward is collected, its number changed to bright white from its varied colored theme. This is different from 2020 where the number changed from pale white to a gold color.
The calendar included a 'tip' button at the bottom right which highlights the number which input into its search bar.
Giant FICSMAS Gifts
[
]
While the event was active, Giant FICSMAS Gifts appear from the sky at random intervals, but only within 300 meters of the player. They fall slowly with parachutes and will land on the first solid object in contact, shaking the screen and with a pop effect. They can be interacted E with to collect FICSMAS Gifts. If they are hard to access such as on top of a tree or a cliff, using Ladders is one of the easiest methods.
Each of them sized between 4 × 4 × 3 m to 12 × 12 × 7 m. The size of the box corresponds to the amount of FICSMAS gifts inside. The Giant Gifts has a collision box that did not affect vehicles but could affect factory construction to a certain degree, so it was advised to pick them up, which yields between five (5) to 40 FICSMAS Gifts.
They had a spawn limit, and picking them up would enable more gift boxes to be dispensed. When picking up a gift, there was a small chance that ADA would say one of the following lines:
"Merry Christmas"
"Ho ho ho, Merry Christmas"
"Happy holidays. Now get back to work" (Referenced to a meme, source unknown)
"Here's a present. It's Iron bars"
"Merry Christmas you filthy animal". (Referenced to Home Alone)
MAM Research
[
]
A new research tree called 'FICSMAS Holiday Event' is available exclusively during the event, which can be unlocked in MAM: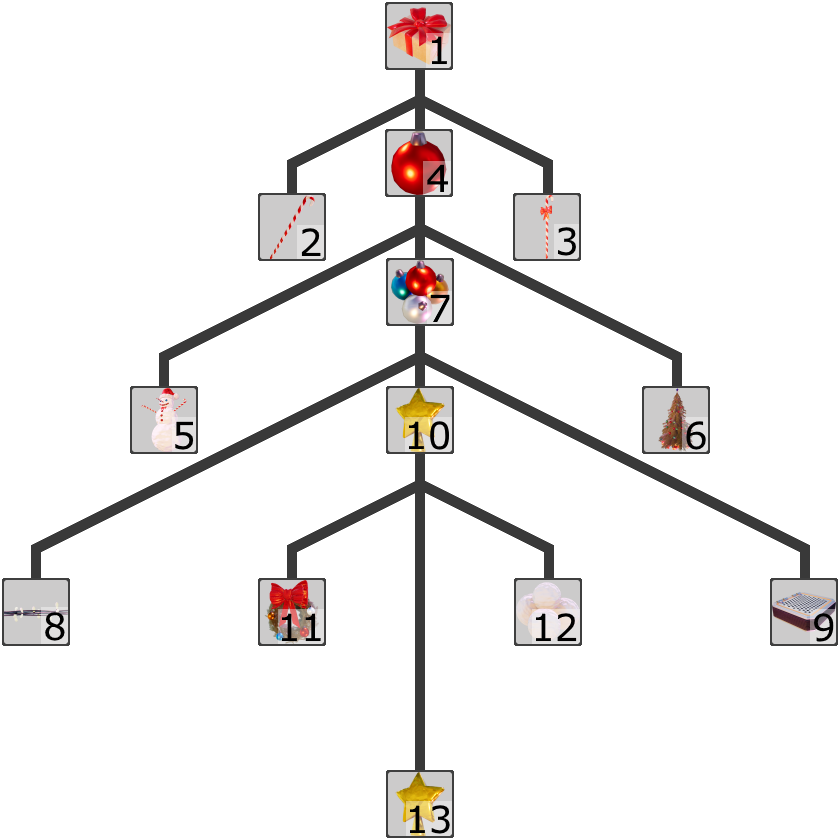 The entire research tree requires only Tier 3 tech - only Constructors, Assemblers, Smelters and Foundries were required to automate all the FICSMAS parts (they cannot be crafted at Craft Bench). The number of contents available are locked behind certain key items, which could only be obtainable by scheduled daily rewards. For example, the first key item, a Red FICSMAS Ornament, is required for further researches down the tree.
Notes:
↑ Patch 0.5.1.3 Removed "Snow Mittens" Recipe and ability to make "Snowball Pile" Equipment for FICSMAS 2021
Parts
[
]
Obtaining
[
]
Unlocking
[
]
All items were unlocked via the FICSMAS Research chain in the

MAM.
The FICSMAS Gift Tree, once unlocked, could be used to automate FICSMAS Gift production. Conveyor Belts were required to bring out the produced gifts, as the tree itself could not be interacted with.
Crafting
[
]
No FICSMAS items could be crafted by hand, all had to be automated in a machine.
FICSMAS Calendar
[
]
TBD
Usage
[
]
Research
[
]
Items were used in the FICSMAS Research chain in the MAM for additional unlocks.
Crafting
[
]
AWESOME Sink
[
]
As of Patch v0.3.7.7 – Build 140083, FICSMAS items can be sunk.
Before this patch, items would block the input of the AWESOME Sink.
Equipment
[
]
Obtaining
[
]
Unlocking
[
]
All items were unlocked via the FICSMAS Research chain in the

MAM. TBD
Crafting
[
]
Unlike other items, FICSMAS equipment could be only crafted by hand, in the
Equipment Workshop.
Usage
[
]
Equipment
[
]
The Candy Cane Basher was the FICSMAS variant of the
 Xeno-Basher, they are functionally identical other than appearances. The Snowball Pile was the FICSMAS variant of the
 Nobelisk Detonator.
Crafting
[
]
No recipes found
AWESOME Sink
[
]
FICSMAS equipment could be sunk, each item yielding one point.
Buildings
[
]
Obtaining
[
]
Unlocking
[
]
Giant FICSMAS Tree
[
]
The Giant FICSMAS Tree came with no decoration by default, where each upgrade research adds decorations onto it. The first upgrade adds Candy Canes. The second upgrade added Red, Blue, and Copper ornaments, along with the FICSMAS power light. The third upgrade adds Iron ornaments and colorful gift boxes to the tree. The final upgrade adds a decorative star at the tip of the tree.
Despite its description, multiple Giant FICSMAS Trees could be built.
Default entities with seasonal differences
[
]
Trivia
[
]
Dylan made the snowballs and Tree.[2][

citation needed

] [

Clip needed

]
When opening the daily reward from the Advent calendar, there was a small chance in which the small door would swing downward instead of sliding down.
Year 2020
[
]
For year 2020, the rewards for all of the days were randomized, except for the 1st, 4th, 5th, 11th, and the 25th of December:
For all other days, the sequence was shuffled, although it was guaranteed to get all the items below eventually:
Gallery
[
]
History
[
]
References
[
]