Rotor
| | | |
| --- | --- | --- |
| " | This… goes around and does things, I think. | " |
| | ~ Caterina Parks's assistant Steve | |
Rotor is a crafting component used in the creation of a Motor. It is also used for building several early-to-midgame buildings.
Recipe
Ingredients
Building
Products
Prerequisites
Assembler
15 sec
× 6
Tier 2 - Part Assembly
Assembler
16 sec
Tier 2 - Part Assembly
Assembler
12 sec
Tier 3 - Basic Steel Production
Alternate recipes analysis
[
edit
|
edit source
]
The following shows different ways to produce 1 Rotor / second, or 60 / min: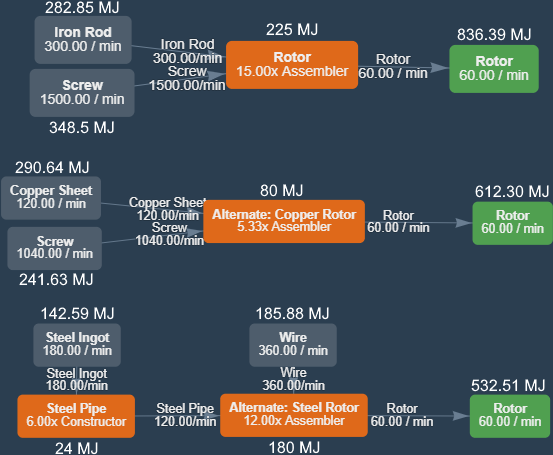 Recipe
Iron Ore
/min (WP)
Copper
/min (WP)
Coal
/min (WP)
Total WP
Total Energy
/item (MJ)
Space
(m2)
Building
counts
Default
207.69
(29.51)
-
-
29.51
836.39
8327
75.39
Copper
140
(19.89)
48
(16.63)
-
36.52
612.30
4971
38.67
Steel
172.31
(48.48)
-
120
(38.83)
87.31
532.51
4815
41.92
Weighted Point is the weighted consumption rate which is calculated by: (resource consumption rate / maximum extraction rate) * 10,000. The lower the better.
Energy per item can be used to measure how much power is consumed for the entire production chain. The lower the better.
Space refers to building space, excluding belts and pipes. The lower the better.
Among multiple ways to produce each of the ingredient, the recipe with the lowest WP is chosen. The exception is mentioned below:

 Rotor is used in the Alien Organisms Research chain and Mycelia Research chain in the

MAM for additional unlocks.

 Rotor can be sunk into the
AWESOME Sink to yield 140 points.
An early setup of RIP and Rotor using 1.25 Iron nodes without considering the item ratio.
Patch 0.3.3.0: Reworked & optimized several resources/parts - AI Limiter, Circuit Board, Hazmat Suit, Stator, Silica, Concrete, Rotor, Iodine Infused Filter, Hard Drive, Quick Wire, Wire, Plastic, Oil Barrels
Items

Parts
Components
Equipment